Welcome To Rice Milling Expo
ADAMAS Event Private Limited (AEPL) is established to cherish the fastest growing Indian Rice industry. AEPL, with all the privilege is here to announce the third edition of RICE MILLING EXPO, with a vision to becoming the most preferred exhibition on rice industry to be held from October 16 to October 18, 2015.
This exhibition is supported and governing by various prestigious Indian organizations adding the strength and value to the event. The organizations supporting the exhibition are
1. The Federation of All India Rice Millers Association,
2. Rice Millers Association (Maharashtra)
• Gondia
    • Chandrapur/ Gadchiroli
    • Bhandara
    • Nagpur
3. Madhya Pradesh Rice Millers Association
4. All India Rice Exporter Association.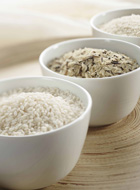 RICE MILLING EXPO 2015 devotes to be a great help for the healthy and sustainable development of the whole chains of rice industry, promoting rice brands, improving mechanization level, showing companies' images, expanding sales channels, deepening research and exchange of technology, driving world rice industry to a sustainable development stage.
During the exhibition, companies will showcase the new technology and products of rice cultivation, harvesting, processing and selling.
RICE MILLING EXPO 2015 offers a unique opportunity to penetrate markets not only in INDIA but further afield to other parts of the world. At RICE MILLING EXPO 2015 , you will get the golden opportunity to meet thousands of prominent trade visitors and explore business potential in Indian and other parts of the world. RICE MILLING EXPO 2015 provides clients with the most influential platform for rice industry.